Energy & Renewables
Sale of anaerobic digestion facility
QMPF is pleased to announce that it has advised the shareholders on the successful sale of an anaerobic digestion ("AD") facility to the listed environmental investment fund John Laing Environmental Assets Group (JLEN). QMPF advised the vendors, Downing LLP managed venture capital funds, and minority shareholders, on the sale for a total consideration of c. £18.1m including working capital. Our role covered the valuation, marketing and tender process for the sale.
The Merlin Renewables AD plant is located in Hibaldstow, North Lincolnshire and was commissioned in September 2014. The plant, which was developed by Future Biogas Limited, has a thermal capacity of c. 5MWth and predominantly produces biomethane to be injected to the national gas grid. In addition, it also has a 0.5MWe CHP engine and is accredited under the Renewable Heat Incentive (RHI) and Feed-in-Tariff (FiT) schemes.
Future Biogas Limited will continue to provide management, operations and maintenance services to the AD plant after the acquisition.
Clare Lacey, Partner at QMPF said "QMPF is pleased to have advised and concluded on sale of this third project in the portfolio. Having now advised on the successful sale of 5 AD plants in the last 12 months, this has once again demonstrated the breadth and depth of our expertise in renewable energy markets. Our team also remains very active in the wider renewable energy sector, having been involved in 9 district heating projects, several onshore wind transactions and further AD remits."
Philipp Lukas, Managing Director at Future Biogas said "We have worked with QMPF over several years exploring financing and sale opportunities for a number of our AD plants. They have proved to be excellent advisors whose input to strategy and use of wider market contacts added significant value to the subsequent transactions."
Colin Corbally, Partner at Downing said "We are pleased to have successfully completed the sale of Merlin AD which is the fifth AD plant QMPF has advised us on selling. QMPF's management of the sales process and commercial advice throughout proved invaluable and ensured that a successful result was achieved."
For further information contact: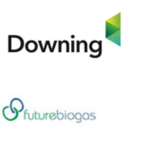 August 2018
Energy & Renewables
Sale of Merlin Renewables
£18.1m
Financial Adviser