Energy & Renewables
Wind Assets LLP and Hall Farm Wind Farm Ltd
Quayle Munro Project Finance has advised John Laing on the acquisition of three operational wind farms.
Quayle Munro Project Finance ("QMPF") is pleased to announce that it has advised John Laing, the specialist investor and asset manager on the acquisition of Wind Assets LLP ("WALLP") and Hall Farm Wind Farm Limited ("Hall Farm").  WALLP was acquired from Infinergy and holds two operational wind farms: Castle Pill (3.2MW) and Ferndale (6.4MW), whilst the 24.6MW Hall Farm was bought from Blue Energy and Santander.
QMPF advised John Laing on these acquisitions, completing the financial due diligence, including extensive financial modelling, as well as providing valuation and structuring advice and commercial review of the contracts and financing arrangements.
QMPF was delighted to work with John Laing as it continues to build its onshore wind portfolio, having also advised on the structuring and financing of Bilsthorpe wind farm (10.2MW) and Wear Point wind farm (8.2MW) during 2012.
Castle Pill and Ferndale are both operational wind farms based in south Wales.   Castle Pill has been operational since October 2009 and Ferndale since September 2011.  The senior debt funding is provided by NIBC and there is a power purchase agreement in place with Statkraft.   Turbines have been supplied by EWT, Enercon and Nordtank.
Hall Farm became operational earlier this year.  The funding is provided by RBS and the power purchase agreement is also with Statkraft.  The turbines were supplied by RePower.
This transaction further enhances Quayle Munro Project Finance's reputation in the renewable energy sector both in term of structuring and financing onshore wind projects and advising on equity purchases and financial due diligence.
Clare Lacey, Partner, Quayle Munro Project Finance said:
"Quayle Munro Project Finance is delighted to have been part of these transactions. We are pleased to have supported John Laing in completing the successful acquisitions of these projects.  Since John Laing's entry into the onshore wind market in August 2012, we have worked together to add over 50MW to its onshore wind portfolio.
Alex Yew, Head of Project Finance, for John Laing, said:
"These mark another series of deals we have worked on with QMPF. We continue to do repeat deals with them because we are impressed with their work and their commitment. Specifically, on these relatively unique deals, the QMPF team proactively raised issues and used their commercial and financial skills to help us navigate our way through the challenges. Finally, and just as importantly, they are a team we enjoy working with."
For further information contact: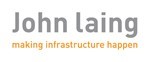 November 2013
Energy & Renewables
Acquisition of three operational wind farms
Undisclosed
Financial Advisor